The question of how to connect a Davis Vantage Pro or Vue station comes up time and time again.
This page is designed to answer these questions.
One of the reasons why this question is asked so often is because of the multiple ways you have to choose from to connect a Davis Vantage station to a Mac. First you need a WeatherLink cable. This cable plugs into the console and provides a connection option to the computer. There are essentially three versions is the WeatherLink cable: Serial, USB, IP.
Serial WeatherLink Cable
You can order this in a PC or Mac version. But the hardware included in each box is exactly the same the only difference between the two products is the version of the WeatherLink software included in the box. But since this software is a "free" download from Davis anyways it doesn't matter what version of the serial cable you buy. Go for the cheapest.
But, Macs don't have serial ports anymore so you need a way to connect a serial cable to the Mac. What you need is a USB-To-Serial convertor cable. My best experience has been with Keyspan products but they are expensive. I have also used any generic USB-Serial cable with the FTDI chipset inside if it. Here's the deal, a company called FTDI make the chips and then a ton of manufactured make cables using those chips and sell them at varying prices. So the trick is to find a cheap one (I've found them for ~$10) using the FTDI chip. But from web sites it can be tough to impossible to figure out if they are using the FTDI chip. Once you have such a cable in hand it is easy to figure out since the information shows in "System Profiler" utility (in your Utilities folder).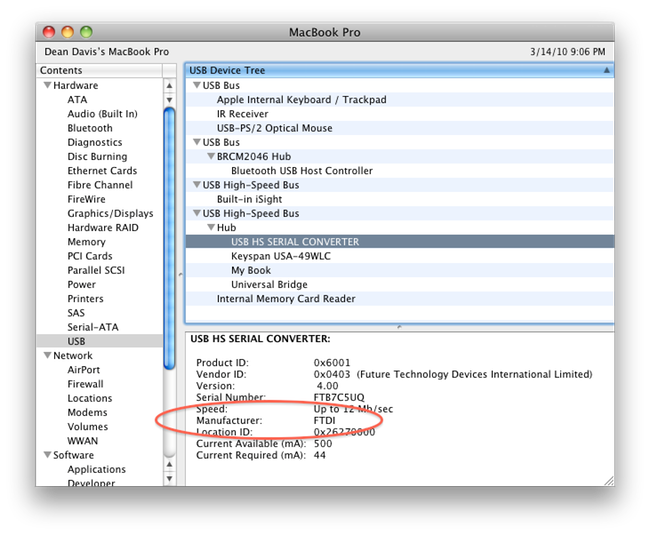 Why use FTDI? Because they support and update their drivers that make these cables show up a regular serial ports on the Macintosh and that is important since WeatherTracker can only connect to "regular" serial ports.
Keyspan also seems to be keeping up on their driver support as well.
The other chipset you may get in a "Generic" USB-Serial cable is from Prolific. I'm not a big fan of the Prolific chipset for Mac as their driver support has been lacking.
Bottom Line: If I were to buy something right now, out of all the options, to connect my Vantage station to my Mac I would buy a serial version of the WeatherLink cable the cheapest way I could find. I have no affiliation with ProVantage but they always had very good pricing. Then find a good USB-Serial cable, either KeySpan or an FTDI cable.
If you have a USB to Serial adapter that isn't and FTDI or Prolific chipset (find out using "System Profiler). let me know via email or support forum and I'll see if I can help you get it working on a Mac.
USB WeatherLink Cable

Why not just get a USB cable any by pass the whole USB-Serial cable adapter I need using the option above, you may ask? Two reason...
Reason 1: Because all the USB WeatherLink cable is is the standard Serial WeatherLink cable they Davis has put a chipset into to do the USB to Serial conversion. They just combined the two cables together themselves. But, unfortunately they didn't use the FTDI chipset they used one from Silicon Laboratories. And herein lies problem number on. Silicon Labs has been notoriously bad at updating their driver for the Mac. So after a OS X upgrade you may no longer have access to your Vantage station as Davis has to rely on Silicon Labs to update their driver. I believe in recent history it took Silicon Labs a year or two to update their Mac driver. I would avoid the USB WeatherLink cable.
Reason 2: Driver Confusion. Davis sells two versions of the USB cable a Windows and Mac version. But unlike the serial version there appears to be a hardware difference between the two cables. Every USB device has a Product ID and a Vendor ID. Below is a screen shot of the values when I plugged in my Windows version of the USB cable.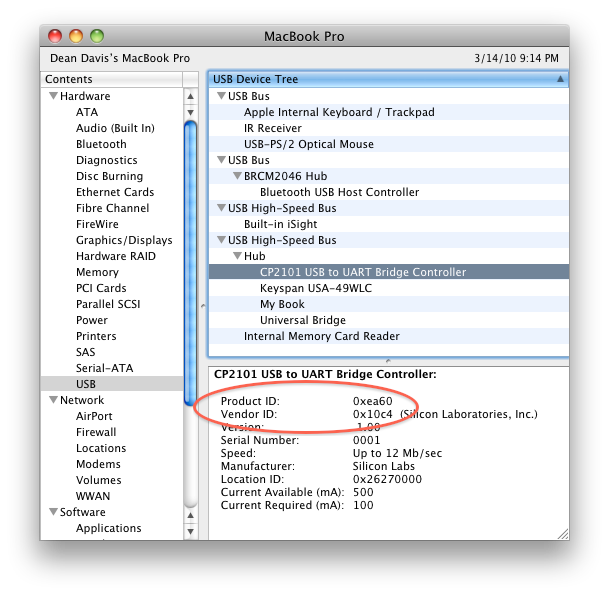 The Product ID is in Hexadecimal as "EA60" or 60000 in decimal. The Vendor ID is hex 10C4 or 4292. This is a very old version of the cable. A long time ago both Mac an PC shipped using PID = EA60 but in recent times that changed. It seems that the Mac version now has a Product ID of EA60 (60001) and the Windows version is EA61. So, what's the big deal? Well, it turns out that when Silicon Labs wrote the driver for Mac it specifically looks for a USB device using the Product ID EA60. So, if you have a later version Windows USB WeatherLink that shows up with PID=EA61 then the Mac driver won't work but the cable will work on a Mac with some fiddling.
There is a thread on the Apple Support forum that shows how some people have been using Windows software to change the PID of their Windows version WeatherLink cable from EA61 to EA60 so it works with the driver. Good luck.

Also the driver can be very hard to find so I'm hosting it here...
Latest Silicon Labs Macintosh Driver: PID = EA60

Again, after reading all of this, if you have any questions please let me know by email or the support forum.
IP WeatherLink
The last option for a WeatherLink cable if the IP version. Using this cable you connect the Vantage console to your home network using an ethernet cable. Davis has built in software into the cable itself to upload weather data to a Davis hosted website.
But a program like WeatherTracker can talk to the cable over the network and grab the data just as if the cable was connected directly to the computer. The most recent version of WeatherTracker does not yet support the IP WeatherLink but the next version will. I'll update this section when that happens.